6 Easy Ways to Get Yellow Stains Out of White Shoes
How to Get Yellow Stains Out of White Shoes
As white shoes become your favorite item in the closet, there are some hardships that you could be facing.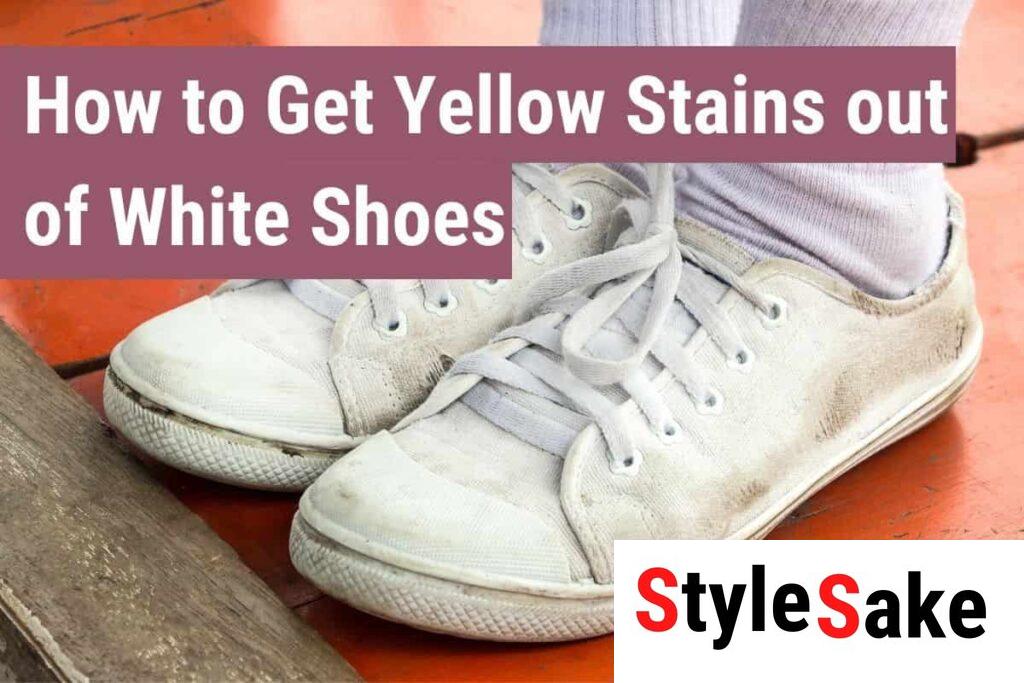 White fashion comes with challenges on its own, as you have to be consistent at taking care of your things whether it is a jumpsuit or a shoe. Other colors are less expected to get muddy but when it comes to wearing white, things can get a bit complex, right?
So today all those vulnerabilities that you encounter while wearing your white platforms, we are going to give you the perfect solution on how to get yellow stains out of white shoes.
White shoes are the top trend these days. White Vans are most popular, that's why we have separate detailed post on how to clean white vans. Following the hectic daily routine, we forget to properly clean them.
We sometimes give our white converse a quick wash in a hurry which results in yellow stains on it. That can be very embarrassing in front of friends.
Reasons Behind Yellow Stains
Do you guys know the reason behind those yellow stains? There is a number of explanations for why your white shoes get yellow stains or turn yellow with time.
Use of Bleach
When you wash your white sneakers with bleach and store them under direct sunlight. It gives a raise to the chemicals which highlight the yellow stains on your white shoes.
Use of Soap and Detergent
Washing your shoes with soap and detergent is not as good as you think, as if it is not rinsed well enough with water. Any particles present in soap, its chemicals will lead to staining your shoes from white to yellow.
So the question is how to get yellow stains out of your white shoes?
They say where there is a question, there leads to an answer.
Remove Yellow Stains out of White Shoes
There are a number of methods that work perfectly to un-yellow your shoes. So we gathered some of the best tips to help you to clean your shoes and say bye to stains forever. Some of the best functioning ways are listed here to solve your ultimate problem of yellow stains.
Ways To Get Yellow Stains Out of White Shoes
1. Using Toothpaste
Exactly, toothpaste, our day and night partner not only gives our teeth whitening but can also be helpful while whitening our shoes. All you have to do is to learn the proper use of toothpaste. Some people who try the toothpaste method without research end up saying that it doesn't work for them but only if you seek an accurate manner of using toothpaste, your shoes are going to be perfectly clean within a short amount of time.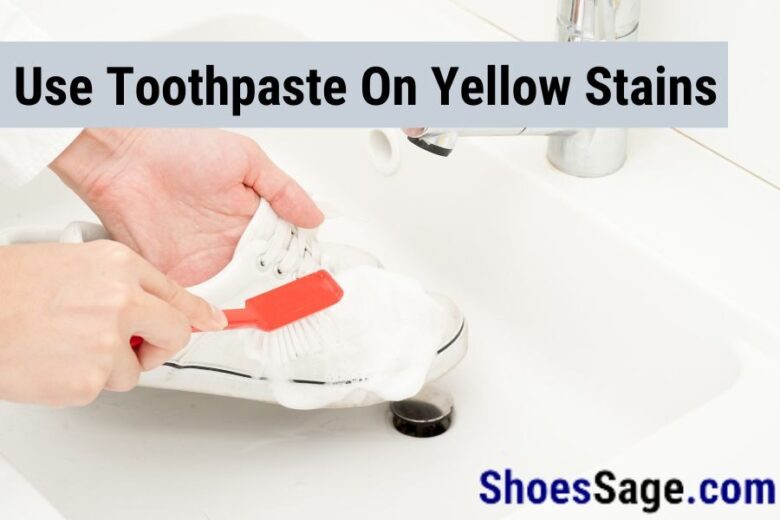 Toothpaste can be clorinated (that comes in colored) and non clorinated (only white). Clorinated toothpaste can give stains to your white shoes, so only use white toothpaste for good results.
Equipment You Will Need 
An old toothbrush
Non Clorinated toothpaste
Microfibre Towel or Cloth
Take out some non-gel white toothpaste on your old toothbrush.
(Remember not to use colored toothpaste because as it's mentioned up there, color toothpaste will not work)
Scrub toothpaste gently on stains in circular motion.
Apply toothpaste all over shoes if the whole shoes are yellow.
Give it 10 to 15 minutes and then wipe the toothpaste off with cloth or water. 
You can also repeat the process if necessary.
Expert's Tips
Do not use toothpaste on white suede shoes.
Toothpaste is effective for white canvas and leather shoes.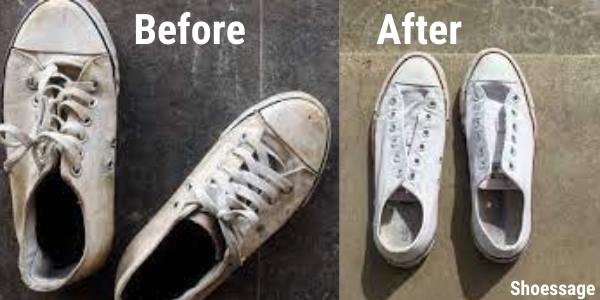 Moreover toothpaste can also be effective in removing tar from shoes.
2. Baking Soda Magic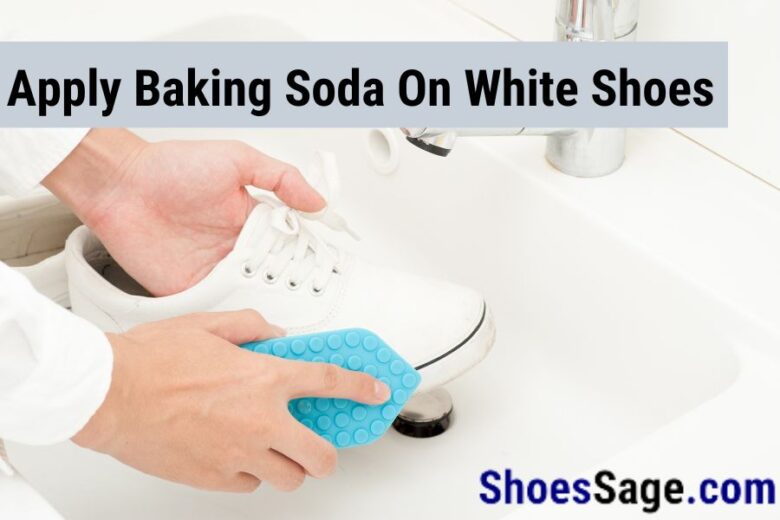 Have you ever tried baking soda to clean your shoes? If not then you should try now because it works great! Baking soda will not only be going to assist in removing odor from shoes but also helps to whiten them. You have to follow these simple steps that are listed below.
Equipment You Will Need
Baking soda
A Bowel
Bristle Brush
Procedure
1- Pour a cup of water in bowel.
2- Then, add enough baking soda until it becomes paste.
3- Take your bristle brush and apply your shoe with the paste you made.
4- Leave it under the table or shade, and let it dry.
5- Once it dries, take the paste off.
6- Your shoes are white again.
3. Use of Tartar | Hydrogen Peroxide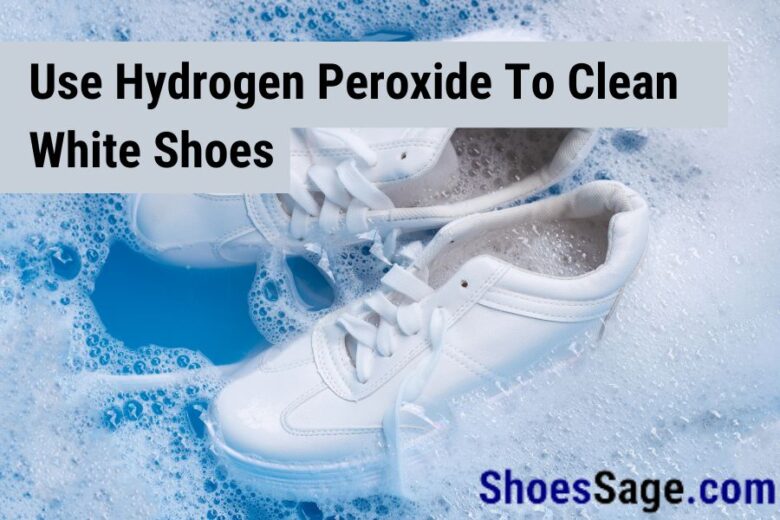 Hydrogen Peroxide is also known as cream of tartar. Tartar is also used to clean different materials and rust on things. That is why tartar can also be very helpful when it comes to removing yellow stains from white shoes. It is very easy to use; just follow these simple steps to make your shoes white again.
Procedure 
1- Fill a heat-resistant container or a bowl with hot water.
2- Mix a cup of cream of tartar for about 1/2 in the water bowl.
3- Take a spoon and mix both ingredients well.
4- Soak the shoes in the tartar water for one and half hours.
5- Check to see if the shoes are clean well, if it's not then give it more than 30 minutes.
6- Take out the shoes from that water solution.
7- Rinse them well enough with cold water, making sure there is no substance of cream left on the shoes.
8- Keep them under shade to dry for a day.
The shoes are white, ready to wear again.
4. Salt and Hot Water
Last but not the least, salt also becomes the perfect solution when it is mixed in hot water. Salt is always on the list when someone asks about cleaning purposes because just like lemon salt comes with hundreds of benefits and on top of that, it is always present in everyone's kitchen, which makes it available in everybody's home. So it is as easy to use.
There are many methods to use salt for cleaning yellow stains out of white shoes, but here is a simple way explained by which you can see off stains for a long period.
Follow these steps mentioned below.
1-Take out a small bowl and fill it with a cup of hot water.
2- Put 1 tablespoon of table salt in the water.
3- Mix it well until the salt is well dissolved.
4- Pick any brush you are not using at the moment, dip it in the saltwater.
5- Scrub the shoes well with a brush until the stains are starting to vanish and the shoes become lighten.
6- Dry it for half an hour and scrub it again if needed.
Your shoes are ready to be with the outfit again. Remember this method do works for light color stains. For more deep stains you may need to apply other methods mentioned above.
5. Using Magic Eraser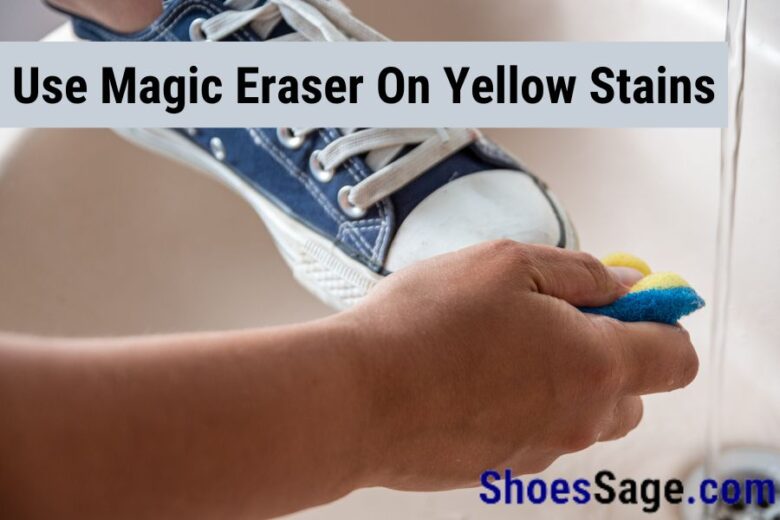 Magic eraser is quick and easy way to whiten the yellow shoes. You can purchase magic eraser online or from nearby shop. 
First of all, dampen the magic eraser.
Scrub it gently on yellowish parts of shoes.
Clean untill shoes become white again.
WD 40 is among top stain erasers that can be used on white shoes. 
6. Lemon the all-rounder
Lemon comes with thousand of benefits; it is used in almost everything's solution. There is a saying that lemon is the all-rounder fruit, which is true to 90% because it is used in making various things, baking, and cleaning them.
Lemon is very versatile when it comes to being the solution to any query of human life. So why not using lemon for cleaning yellow stains out of white shoes, right?
Here, there is a simple solution where using lemon can be effective in cleaning your shoes. You just have to follow these easy steps to clean yellow stains out of your white shoes.
1-Take 2 tablespoons of lemon juice into a bowl of water.
2-Mix them well.
3- Scrub your shoe with an old toothbrush dipped into the lemon water mixture.
4- Rinse it well with a fabric soaked into the water.
Your stains on the shoes are gone by the time it dries.
Best Method To Clean White Shoes Toothpaste Vs Baking Soda and Vingar
What Do We Suggest?
Removing yellowish stains is not going to be a big deal now when you apply these mentioned ways. You can easily remove all the dirt and stains off from your white canvas or sneakers. Make sure to apply the remedy and rinse it off well. Without washing them properly your shoes can leave stains again so giving them a good wash before drying out is necessary.
As there are different kinds of stains, some long last and a few are light ones that fade by applying simple methods, so we gathered all the information and mentioned several solutions of how to remove yellow stains out of white shoes.
It is finally up to your shoe material and the way you choose to remove the stains out. If your stains are heavy and not easily getting off from your shoe, you should go for the baking soda and tartar cream method and if your stains are less weighty then you should try lemon and salt ones.
But as there is mentioned up there, it depends on some factors which method is going to work for you so first of all analyze your shoe material and stains formation. Then you can decide which method you should opt for.
So next time you should not to worry about stains, how to get them off from your white shoes because here there are all working methods listed above to help you out. Clean the stains and rock it off.
Frequently Asked Questions 
How to remove yellow bleach stains from white shoes?
You can fade the bleach stains by using salt and hot water or toothpaste, but it is hard to completely remove bleach stains.
How to get yellow stains out of white shoes?
There are few different ways to to this like you can use toothpaste, salt and hot water, lemon or hydrogn peroxide with baking sode to remove yellow stains from white shoes.
Can you remove yellow stains from white canvas shoes?
Yes, stains can be removed from white canvas shoes. You can follow above mentioned methods to clean white shoes to make them new again.
Can We Use Bleach On White Suede Shoes?
We recommend to avid using bleach on white shoes of every type. The best method to clean white suede shoes is to use baking soda powder that is safe and effective. Morover deal gently with suede shoes as their mini fabric threads are more prone to damage.