9 Easy Ways To Clean Dog Poop Off Shoes in 2023
Have you ever had the unfortunate experience of stepping in dog poop? Not only is it disgusting, but it can also be a hassle to clean up. If you're lucky, your shoe will only be smeared with feces; but if the poop gets on your sock, it can be a real mess. In this post, we'll tell you how to clean dog poop off shoes and give some tips on avoiding this situation altogether.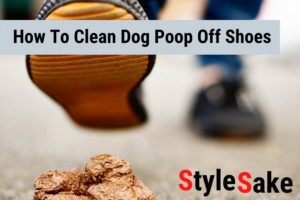 Steps To Clean Dog Poop Off Shoes
First of all, remove dog poop from shoes by washing under tap or by water pipe. Use rubber gloves to avoid any skin contact. If the dog poop has already dried, you can use a stiff brush to remove it.
Next, Clean your shoes with detergent or any of below listed methods to clean fine details and small particles of dog poop.
Then, Dry your shoes.
Ways To Clean Dog Poop From Shoes
Using Hosepipe to Remove Chunk
Pressure of water from hosepipe can remove poop particles from shoes easily. You just have to place your shoes a few meters apart tightly. Now, hold the hosepipe and turn on the water. Keep the pressure of water high to make sure all particles are removed from shoes.
You have to use brush for removing stubborn small particles. Just scrub your shoes with brush until it gets cleaned. When you finish cleaning, leave shoes to dry in air.
Using old Toothbrush To Remove Particles of Poop
Toothbrush can penetrate in the mesh of shoes and clean dust or poop particles. For this purpose,
Take an old toothbrush and dip it in soapy water.
Now, start scrubbing shoes with the brush. You will see that all particles are being removed from shoes.
After that, wash shoes with plain water to remove soap residue.
And then, leave shoes to dry in air
Expert's Tip: Toothbrush can be handy to remove poop particles form shoes with mesh or velvet shoes, because if you're using cloth or piece of towel, then it will not remove particle that are trapped in mesh or fiber of shoes. 
Freezing Your Shoes To Scratch Poop
Freezing your shoes will make dog poop thick and dry and then it will be scratched off easily.
Take a zip lock plastic bag and put your shoes in it.
Now, put this bag in the freezer for some time.
After that, take out shoes from the freezer and hit them with something hard or use scraper. All poop particles will come out of shoes.
Now, wash shoes with plain water and leave them to dry in air.
Cleaning Dog Poop from Leather Shoes
Dog poop can be washed easily from leather shoes by washing them. Then fine tune your shoes by cleaning them with detergent.
Using Detergent
Non chlorinated Detergents are most effective for leather shoe cleaning. Moreover it will remove the bad odor of dog poop from shoes.
Required
Detergent
A cup of Water
Microfiber Towel
Instructions
1) In a cup, take some water and mix it with detergent to make a soapy mixture.
2) Now, take a microfiber towel and soak it in the soapy water.
3) Wipe your shoes with the soaked towel in a circular motion.
4) Wash off the soap from your shoes with plain water.
5) Lastly, dry your shoes in air.
Cleaning Dog Poop from Suede Shoes
Suede shoes are delicate and require special care while cleaning them. You can use any of the following two methods to clean dog poop from suede shoes without damaging them.
Using Rubbing Alcohol
Alcohol doesn't damage the suede shoes and can clean them very effectively.
Required Items:
Rubbing Alcohol
A piece of cloth
A brush
Instructions
1) Saturate the piece of cloth with rubbing alcohol.
2) Wipe the soiled areas of your shoes with the cloth.
3) Scrub the wet cloth on shoes gently.
4) Rinse shoes with dampen brush.
5) Let the shoes dry in air.
6) Finally, brush the shoes with a suede brush to restore their original look.
Using Vinegar
Take one part of vinegar and mix it with two parts of water in a bowl. Now, take a clean cloth and soak it in this mixture.
Wring out the cloth to remove excess water and then rub it all over shoes. Vinegar will clean as well as disinfect shoes. Let the shoes dry in air.
Repeat the process if required.
Cleaning Dog Poop From White Shoes or Vans
Using Baking Soda
Baking soda is a strong cleaning agent. After removing bigger chunk of poop with hosepipe clean your shoes with baking soda.
You will require
Baking soda
a bowl
A piece of cloth
water
Instructions
Add water to 1/3 of bowl.
Add enough baking soda to make it a thick paste.
Apply thick paste on shoes with the help of cloth.
scrub paste on shoes in circles.
Rinse the paste from shoes.
Clean shoes with dampen towel.
Let the shoes dry in open air.
Using Toothpaste
Toothpaste is effective on white shoes especially vans but remember always using non chlorinated toothpaste on white shoes.
You will be required
toothpaste
A bowl
A piece of cloth or toothbrush
Instructions
Apply toothpaste on shoes with the help of toothbrush or cloth.
scrub it in circles.
Continue scrubbing until stains are removed.
Rinse the paste from shoes.
Clean shoes with dampen towel.
Let the shoes dry in open air.
Cleaning Shoes Soles
Soles can be cleaned easily with some of the methods above or you can use Magic Eraser.
You will be required
Instructions
Dampen the magic eraser.
Scrub it on dirty rubber soles of shoes.
Rinse the shoes with water.
Let them dry in open air.
Video Guide To Remove Poop From Shoes 
Tips to Prevent Getting Poop On Shoes
Shovel the poop immediately after your dog does its job. By doing this, you will not have to go through hassles of cleaning dog poop from shoes later on.
Whenever you take your dog for a walk, keep a spare pair of shoes or slippers along. This will help you stay clean and hygienic. In case, if your dog poops while you are out for a walk, then change your shoes or slippers immediately.
Final Thoughts
Cleaning puppy poop from shoes is not a difficult task. All you need is to have the right materials and follow the steps mentioned above. With a little bit of effort, you can easily clean your shoes and keep them looking new for a long time.
FAQS
What is least disgusting method to get poop off from shoes?
Washing shoes with hosepipe water is the least disgusting method to get poop off shoes. If you have access to a hosepipe, direct the water towards the shoes and let the water do its work.