14 Outfits To Wear With Yellow Shoes | Celebrity Styles in 2023
In summer and spring, yellow shoes are best suited with dress giving you a matching look due to dominance of yellow in environment. If you're looking for a bold and fashionable way to brighten up your closet, yellow shoes will be good pick!
Bringing in bold hue is the optimal approach to make any outfit stand out, especially during spring and summertime when bright colors become increasingly popular. Yellow will never go out of style so don't be afraid to add it into your wardrobe.
Yellow shoes are a bold fashion statement that can brighten up any look. Whether you're attending a formal event or hitting the dance floor, yellow shoes can add an element of boldness and style to your outfit. But as with any accessory, it's important to know how to wear them correctly so they don't end up looking garish.
What To Wear With Yellow Shoes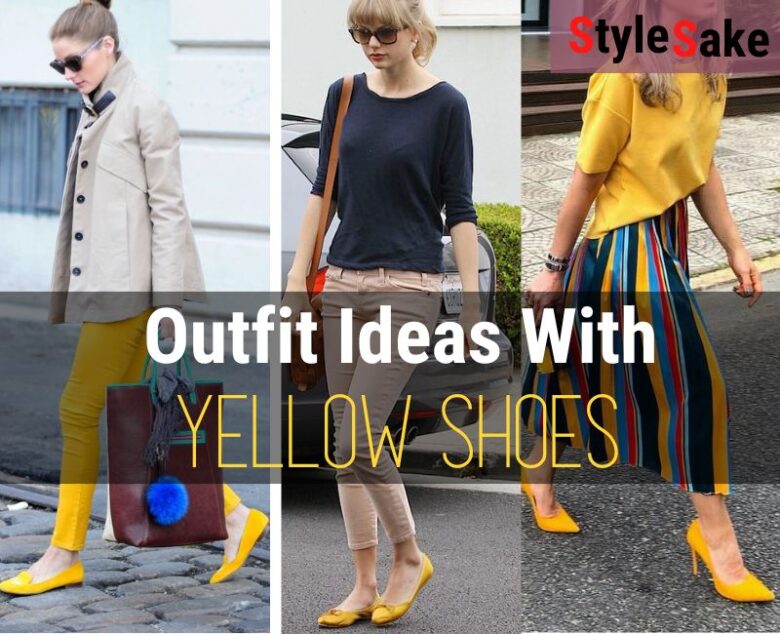 There are many ways to wear yellow shoes, depending on the event and your personal style. Yellow shoes will look great with a variety of outfits. You have to choose outfits that will make you more attractive and don't overdo the fashion. Below are some suggestions for what to pair with yellow footwear but before that you should know about color combinations, so,
What colors go well with yellow shoes?
The best colors to wear with yellow shoes are neutrals like black, white, tan, and grey. Navy blue is also an excellent color for yellow shoes since it complements the bright tone nicely. You can also experiment with other brighter hues such as pinks or blues for a more playful look.
For a casual look, try pairing yellow shoes simple white or black colors. For bright and chich look you can add solid colors such as red and blue.
White Dress With Yellow Shoes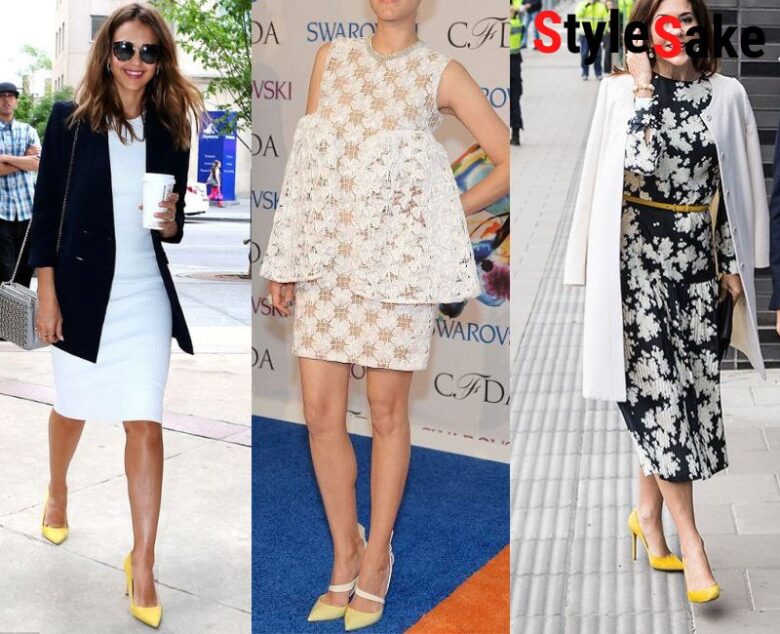 White and yellow make a crisp and refreshing combination. When wearing a white dress, add some yellow shoes for a subtle yet stylish look. White dress adds elegance and draw the attention towards the bright hue of yellow shoes. This way, it makes a complete style with attractive look added with full of elegance.
For a look that is truly captivating, incorporate yellow accessories such as a handbag or scarf to enhance the elegant and vibrant hue.
You can also read about What Color Shoes to Wear With White Dress.
Denim With Yellow Shoes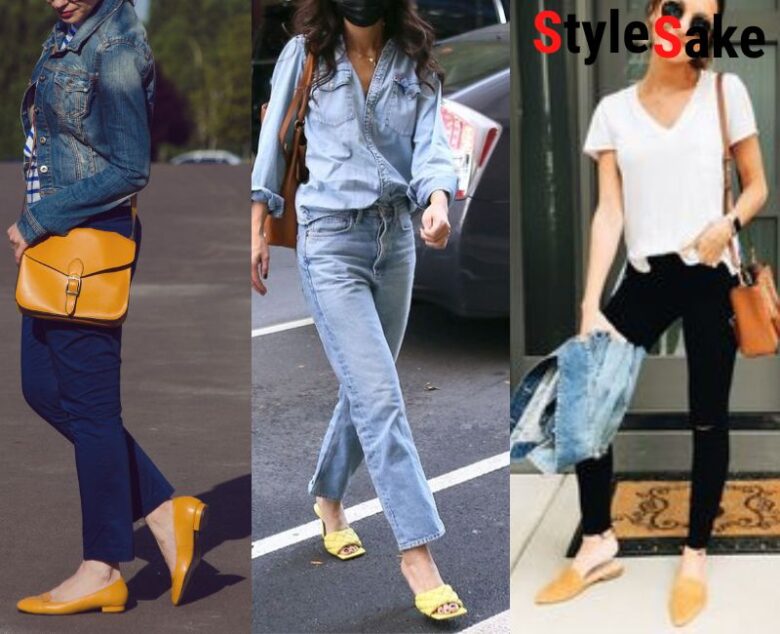 Denim is a timeless classic, and it looks great with yellow shoes. Whether you're sporting skinny jeans or a relaxed-fit pair of overalls, adding yellow kicks will bring life to your look. Choose solid classic colors like shades of blue for the denim fabric to further elevate the outfit and provide added contrast.
Denim jacket with jeans will add another layer of style and make the look more stylish. This will be perfect fashion for the winter days, that will keep you warm and stylish at the same time.
Skirts With Yellow Shoes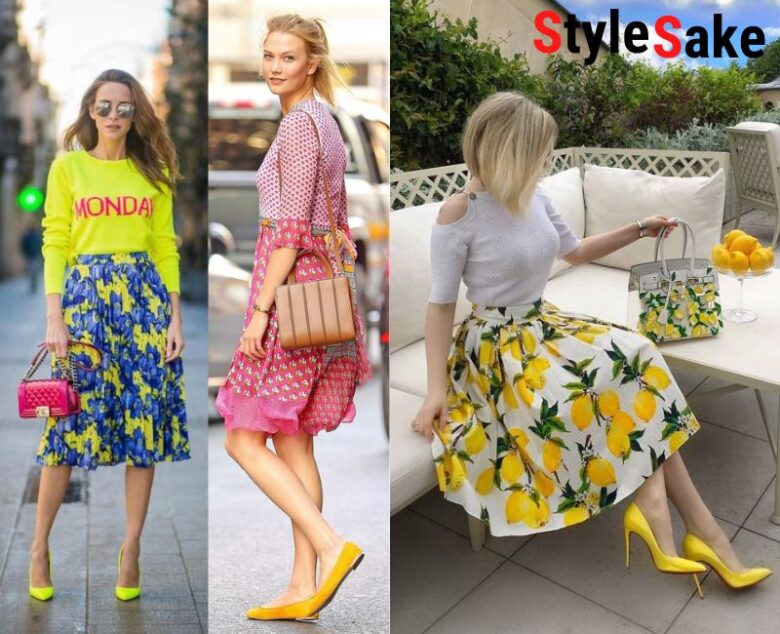 If you want to make a bold statement, try pairing yellow shoes with skirts. Whether you opt for a long maxi skirt or simple skirt, this look can be incredibly chic and fashionable.
For an extra touch of glamour, add some gold jewelry or accessories such as necklaces and earrings to your outfit. This will enhance the overall look and perfectly compliment your yellow shoes.
Black, Navy and Yellow colors are best for skirt as the either will complement the light colors or contrast with footwear, But we suggest you to not limited yourself to these colors only, try different color and create new looks.
Floral Pants With Yellow Shoes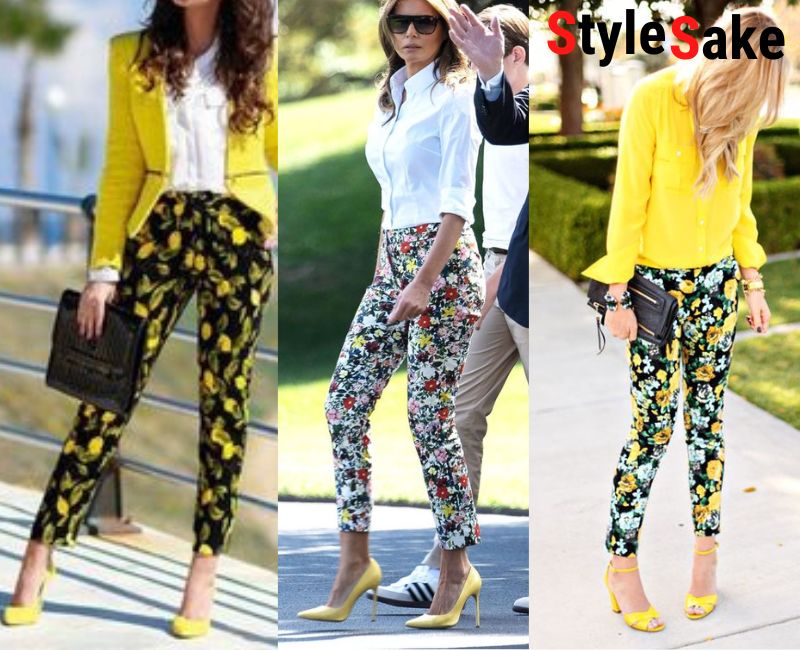 Floral pants have become increasingly popular in recent years and for good reason. They're chic and fun, making them the perfect combination for yellow shoes. Choose bright colors like blue or turquoise to provide a nice contrast against the bold hue of yellow.
Try pairing your floral pants with a simple white button down shirt to add contrast in look that will give elegant look.
To complement the yellow, add yellow blazers or sweater of lemon color, that will dominate the look with its vibrant hue.
Jeans With Yellow Heels and Pumps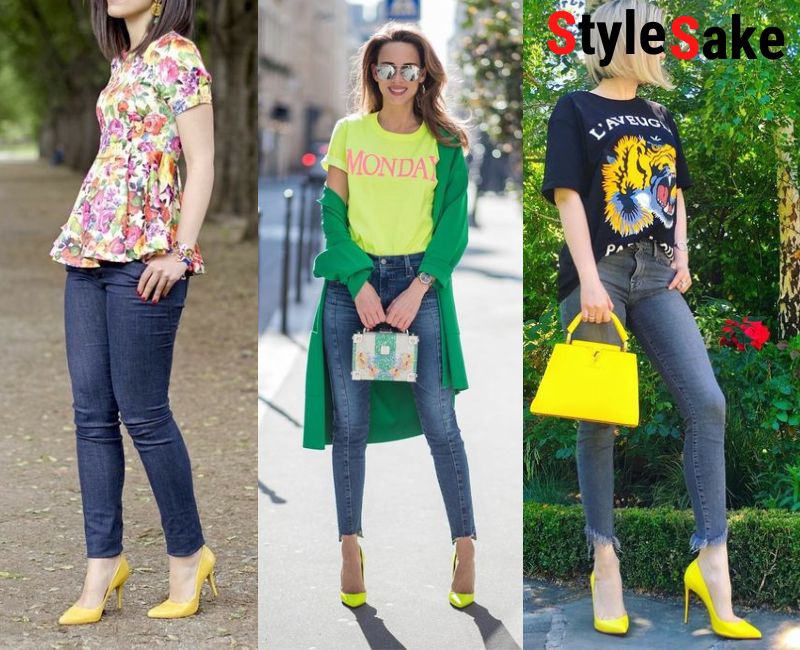 Jeans are another classic option that look great with yellow shoes. Choose a light wash or ripped jeans in medium to dark blue hues for the best effect. Try pairing the jeans with a basic black, white, or grey top to provide contrast and keep the focus on your feet. Add some bold accessories such as headscarf or clutch purse in lemon yellowish color to give a complete look.
Jeans With Yellow Sandals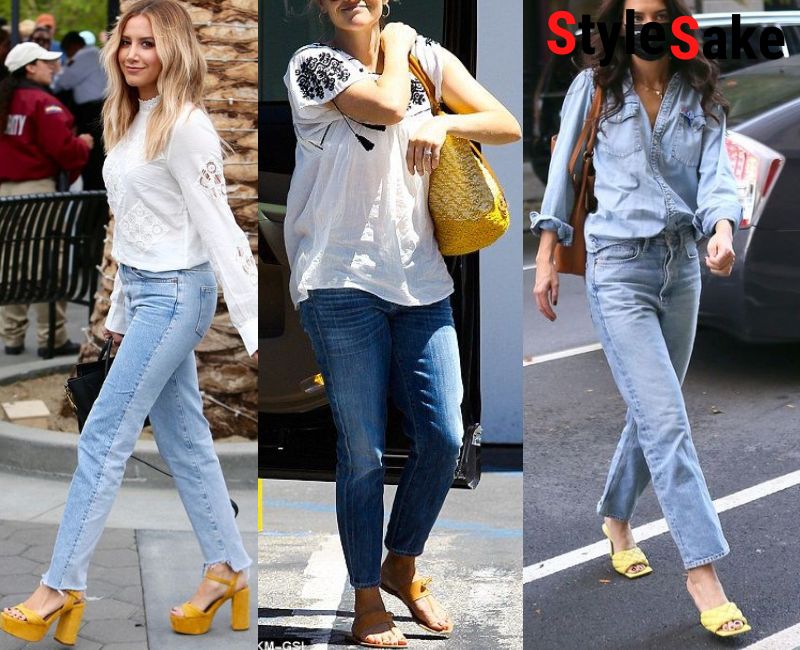 For a stylish look, try pairing jeans with yellow sandals. Choose a pair of jeans and slip on some bright yellow sandals to create an instant summer look. Add bold accessories such as sunglasses or bracelets for the finishing touch. Many celebrities like Kylie Jenner and Reese Witherspoon were spotted in this look. Katie Holmes was also captures with her branded Yellow Sandals of Zara's Collection.
Trousers With Yellow Sneakers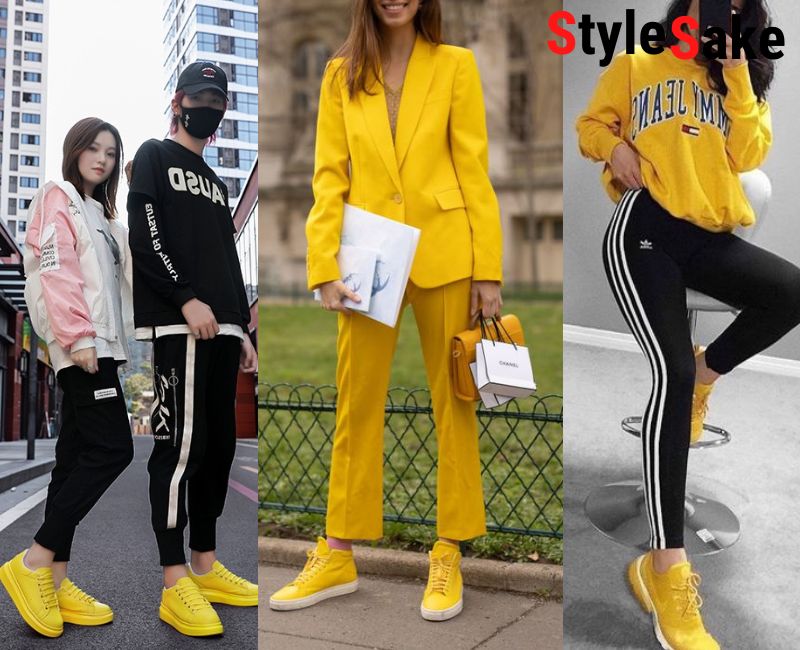 Trousers, whether they're skinny or wide-legged, look great with yellow sneakers. Choose trousers in neutral colors like black, or brown to create an effortless style. If you want to add some more brighter colors to the outfit, choose a pair of trousers in pink or another bright hue.
These outfits will give you informal look that will make you stand out walking in a street. For a more casual look, add some yellow accessories like scarves or hats for added effect.
T-shirt and Pant with Yellow Shoes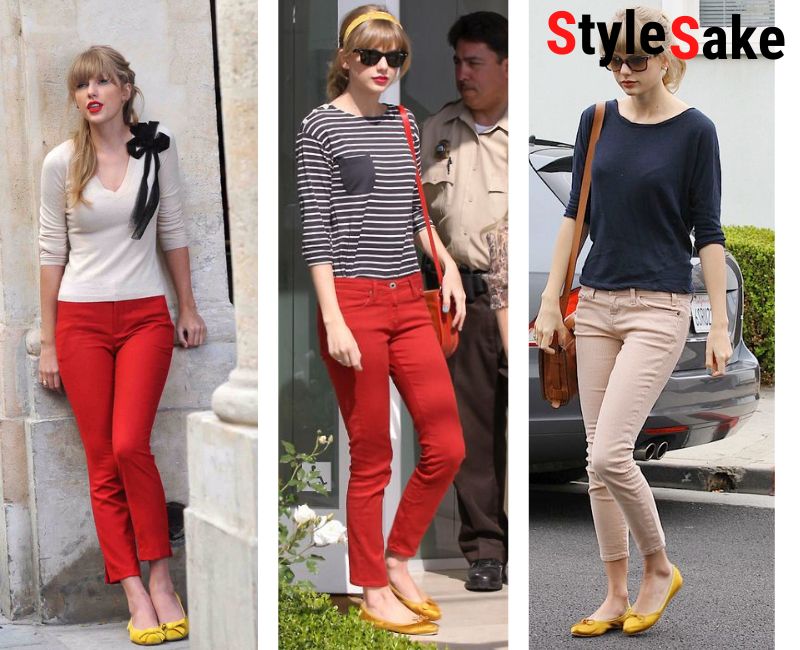 T-shirts and pants are a timeless combination. To add a bold contrast to your yellow shoes, choose either a basic black or grey t-shirt. This look can be dressed up with a blazer or leather jacket for a more formal occasion, while keeping the focus on your shoes.
For a more casual look, opt for bright colors such as red or blue for the t-shirt and pants to create an eye-catching style. Add some yellow accessories like neckbands and bags to complement the style. Moreover, keeping it simple will give you a subtle yet casual look.
Wide Pants With Yellow Shoes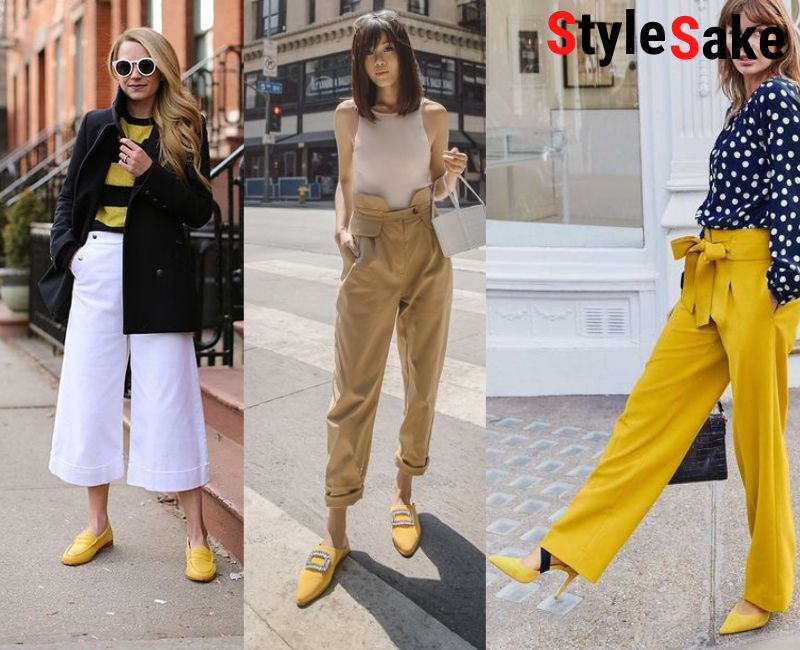 Wide-legged pants are a great way to create an interesting silhouette and add some height. Choose a pair of neutral colored pants such as black, grey or beige for the best color combinations. This look can be dressed up with some bold accessories such as mustered yellow earrings or a scarf in order to draw attention to your yellow shoes.
To add third layer of color to look, try adding a colorful blazer in yellowish tone. This will give you a stylish and unique fashion statement that will stand out from others.
In case, If your want to pair other shoes then read about What Shoes To Wear With Wide Leg Pants.
Celebrities Spotted With Yellow Shoes
Celebrities are often seen wearing yellow shoes on the red carpet or during photoshoots. For example, celebrities such as Gigi Hadid, Lucy Hale, Karlie Kloss, Olivia Palermo have all been spotted in yellow shoes on different occasions.
Tylor Swift also often pairs her yellow footwear with fitted denim jeans and bold accessories to create a stylish look.
Tylor Swift In Yellow Shoes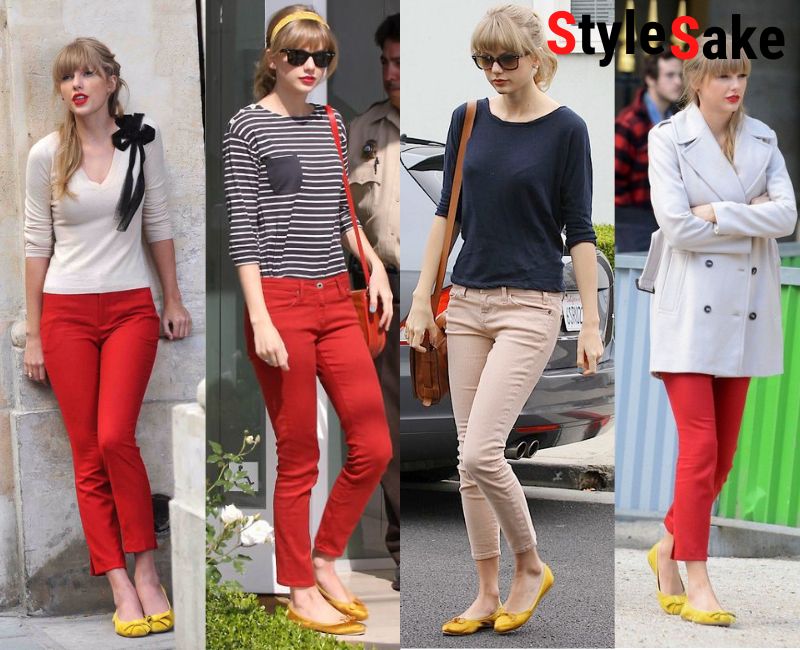 She often pairs them with fitted denim jeans, a crop top and a bold accessories such as a statement necklace or earrings. This creates an effortless yet fashionable look that has become her style.
Olivia Palermo In Yellow Shoes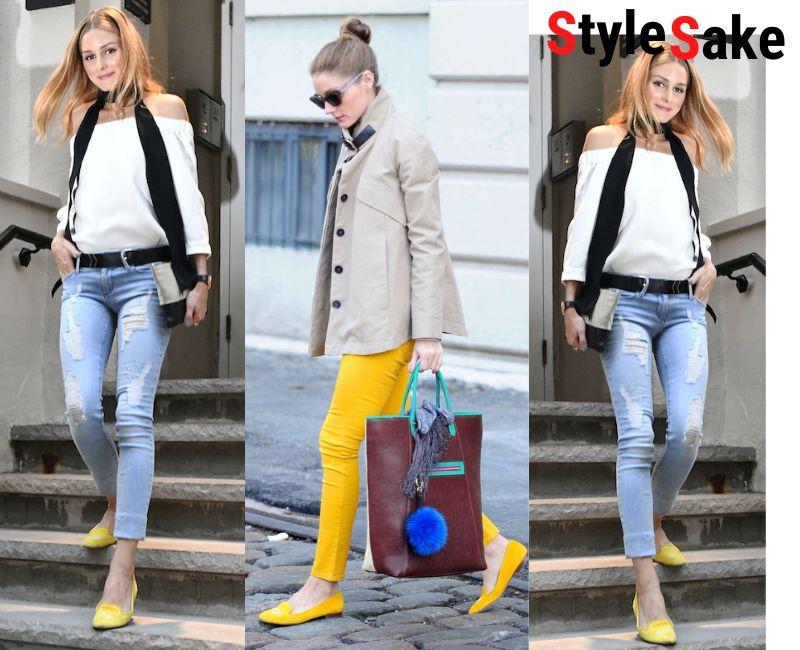 Olivia Palermo, an American fashion influencer and model, is often seen wearing yellow shoes to add a pop of color to her outfits. She pairs them with bright colors such as pink, purple and blue for the best effect. She also adds unique accessories in order to make her look stand out from the rest.
Lucy Hale In Yellow Shoes
Lucy Hale, a famous actress, often pairs her yellow shoes with wide leg pants. Her style is a great example of how to dress up yellow shoes with jumpsuits and wide leg pants.
Karlie Kloss In Yellow Footwear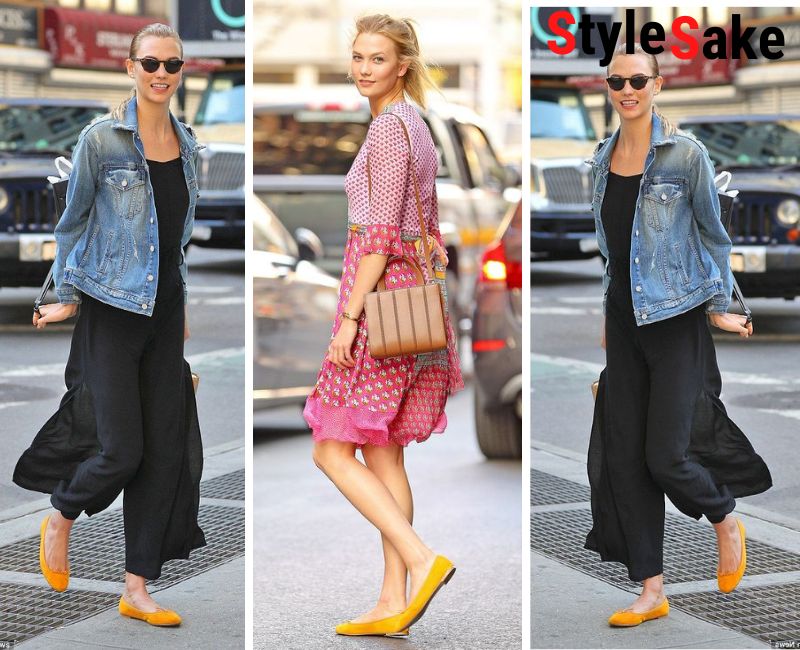 Karlie Kloss, an American Fashion model, often spotted wearing yellow shoes. She often pairs them with jumpsuits and skirts in order to create a unique and stylish look.
Gigi Hadid In Yellow Shoes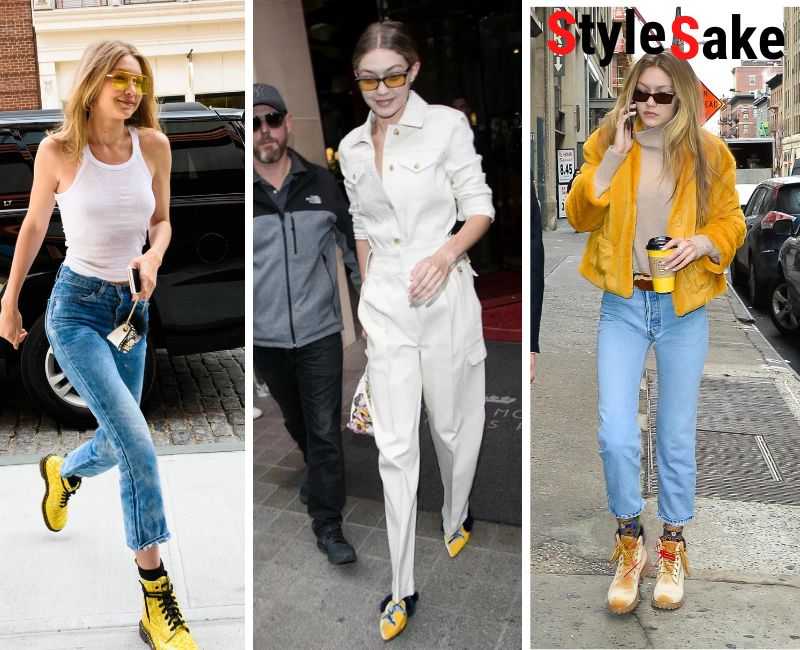 Gigi Hadid, an American supermodel and fashion influencer, often pairs many types of yellow shoes with different outfits. She adds simple accessories to keep the focus on her footwear.
Conclusion
In conclusion, there are many ways to style yellow shoes. Whether you want a formal or casual look, yellow shoes can be a great way to add a pop of color and style in a unique way. From T-shirts and jeans to wide leg pants and skirts, there are so many options for styling and wearing yellow shoes. Additionally, take inspiration from celebrities who often wear yellow footwear with confidence. Moreover, following tips can also help you to create your own look,
How To Style Yellow Shoes
Here are some tips on how to style yellow shoes to make sure you always look your best.
If you're looking to pair your yellow shoes with an outfit, neutrals such as black and white are a great way to make them stand out. These shades will help tone down the vibrancy of the yellow and create an effortless balance between the two hues. A classic little black dress paired with sleek yellow heels is one great way to express this.
If you're feeling more adventurous, you could also pair your yellow shoes with other bold colors like red and purple for a more eye-catching ensemble. For example, try styling a skirt in fiery red hues with pastel yellow heels for a great contrast of both styles and colors. Alternatively, if you want something slightly more subtle yet still stylish, try wearing different shades of the same color family – such as mustard trousers and lemon heel sandals – for an all-out monochrome look that coordinates well without clashing too much.
Another way you can rock those yellow heels is by pairing them with denim or khaki wide leg items that coordinate well but won't overpower the bright hue of the shoe itself. Outfits such as distressed jeans and a white blouse enhance any casual vibe while still allowing your bold footwear choices be seen clearly without becoming overwhelming or tacky looking overall.
Can you wear yellow shoes with anything?
Yes, you can wear yellow shoes with almost any of outfits. However, when styling them make sure to keep the look toned down by pairing them with more neutral colors or use color blocking techniques in order to create a more stylish and eye-catching ensemble. Additionally, make sure you're pairing right type of shoes with right outfits.