What Are Mule Shoes? Everything You Need To Know 2023
There are many different styles of mule shoes, which means that there is something to suit every taste. Some people prefer the classic style, while others prefer more trendy designs. Being available as soft soled shoes and hard soled, there are also a variety of colors and materials to choose from, so it is easy to find a pair of mules that perfectly matches your outfit.
Mule shoes can be worn for any occasion, from formal events to everyday errands. They are also great for travel, as they take up very little space in your luggage and are easy to wear on long flights. If you are looking for a versatile and comfortable shoe option that features open footwear, then mules may be just what you need!
What Are Mule Shoes?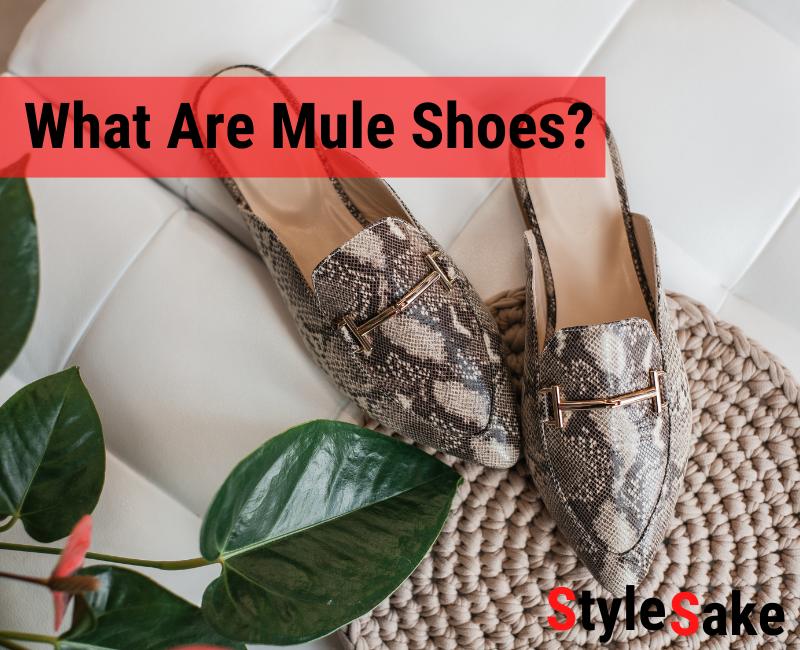 Mule shoes are a type of shoe that is designed with no back or covering for the heel, and they are most often worn as a slip-on style. They are typically made from leather, and have a low heel and an open or close toe. Mule shoes are popular among women because they are stylish and modern, and can be worn with a variety of outfits.
The design of mules allows them to be easily slipped on and off with minimal effort, making them perfect for those who want to quickly change their footwear. They also provide better ventilation than covered shoes, which makes them ideal for summer months.
They can range from casual flats to more formal heels, making them great for all occasions. Some mules even feature embellishments like frills or buckles that add an extra touch of fashion.
Mule shoes are a timeless fashion staple and can be found in many stores and online retailers. With the right pair of mules, you can take your look from simple to chic in no time!
Why Mule shoes Are Called Mule shoes?
The word 'mule' was derived from the Latin word 'mulleus', referring to the purple and red shoes often worn by wealthy senators in Ancient Rome. Although mules are very old shoes but they were not popular till 19th century when the French started to use them in their fashionable wardrobe.
Some people also describe mule shoes with horse like animals called mules due to their backless style but the history of these shoes is much more clear. Because of their history, they are also called as ancient Rome bedroom slippers.
Are Mule Shoes Popular?
Mules became popular again in the 90s and are now a popular choice for fashion lovers as they can be paired with skirts, jeans or even dresses. They are also very versatile, available in many different materials, shapes and sizes.
Marilyn Monroe, an American artist also said in an interview that mules are her favorite shoes. Many other celebrities have been seen wearing mules, helping to make them a fashionable choice for many.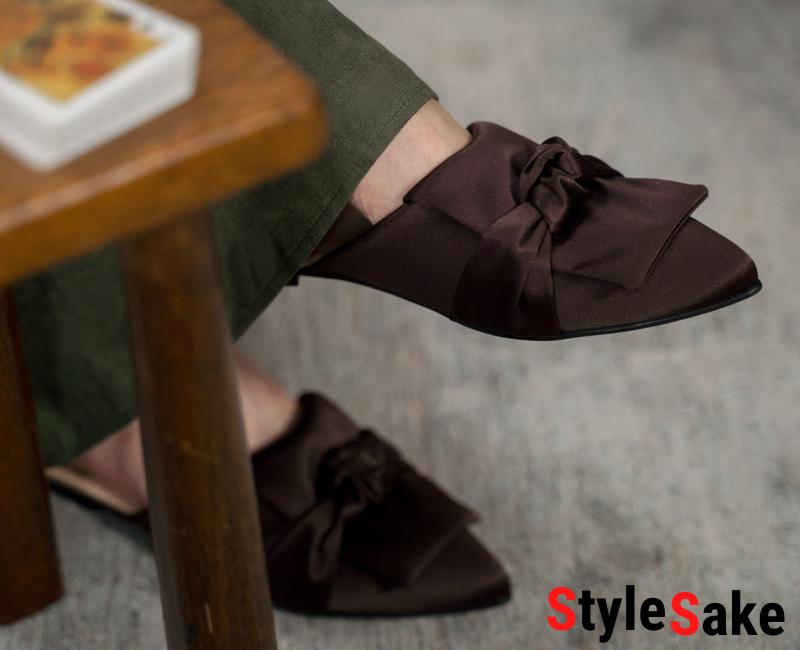 Nowadays, mules are a go-to fashion piece and many people love to show off their stylish mule shoes. They can be found in all kinds of colors, materials and styles, making them suitable for any occasion.
Famous Brands of Mule Shoes
There are several famous brands of mule shoes, such as Nine West, Clarks, Sam Edelman, Crocs, and Dr. Martens. All of these brands have many different styles and designs to choose from.
Types of Mule Shoes
Mules come in a variety of designs and can be categorized in many ways.
The most popular types of mules are:
Capri Mules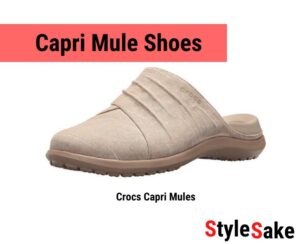 These feature a comparatively low heel and an open toe to close toe variations, typically in leather or suede. These are more like slippers and used in house. Capri Mules are shoes that were classically made with a light material like nylon or fabric, and they had rubber soles. Nowadays, Capri Mules are often fake leather or suede that fit people who have broader feet snugly.
Peep Toe Mules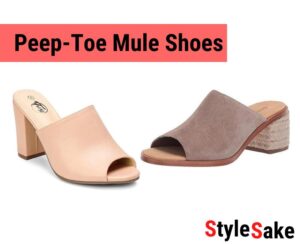 These are open-toed mules as the name suggests, these are mules with an open toe and usually higher heel, most often made of leather variations and nylon. The toe is slightly open which makes them perfect for summer months.
Babo Mules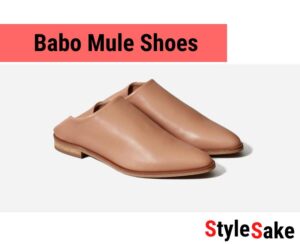 These mules come with a closed toe, and they are usually made of Leather . They often have buckles or frills that add a decorative element to the shoe. Babo mules have inward fold from the back of shoes, which makes it unique.
Razzi Mules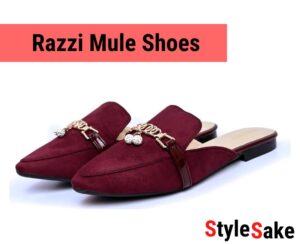 These mules have velvety appearance and design is similar to capri mules. These are also closed toe and backless. Razzi mule shoes can be made of leather, suede, or rubber, but suede is most used.
On basis of other factors you can also hear about,
Heeled Mules – These are stylish shoes with a heel that adds height and sophistication. They can be worn with both casual and formal outfits for a chic look.
Flat Mules – These are mules with a flat sole, making them perfect for everyday wear. They come in a variety of colors and materials, so you can find the pair that suits your style.
Open Toe Mules – These are mules with a peep toe design, which adds an extra touch of style. These have open toe from front of shoes.
Embellished Mules – These are mules that have been embellished with detailing such as beads, frills or buckles for a more fashionable look.
Slip-On Mules – As the name suggests, slip-on mules require no laces or ties to stay on your feet. They're an effortless choice that looks great with jeans and skirts alike.
What is Purpose of Mule shoes?
They can be worn with just about any outfit and make it look more sophisticated and stylish. Mule shoes are also very comfortable, making them perfect for everyday wear.
Being comfortable and easy to wear on and off they are more popular among working women who want to have stylish designs in a bit formal expression. Moreover, they are not only limited to fashion, they are also used in house as a replacement of slippers.
Mule Shoes Vs Clogs
Clogs are a type of shoe that has been around for centuries and is still popular today. They are typically made from wood, leather or other materials and have an open back and close toe.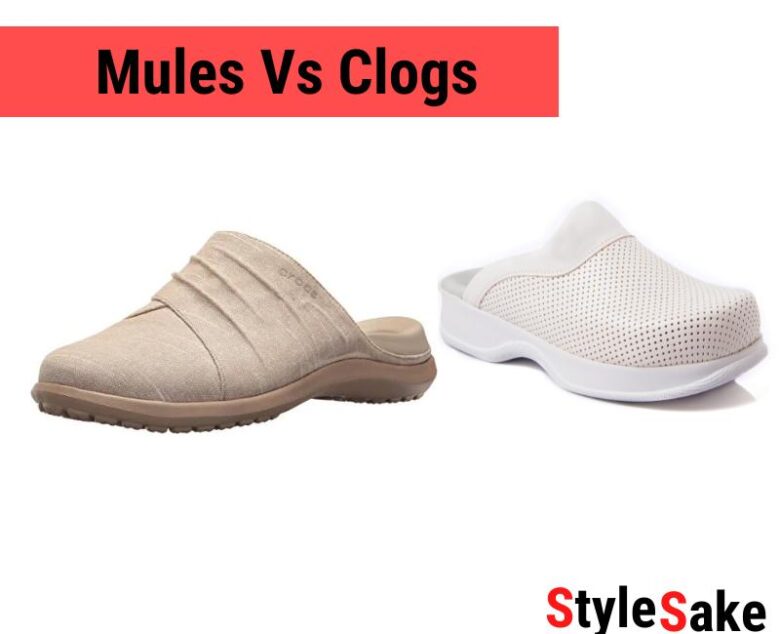 The main difference is that Clogs usually have thicker soles than mule shoes that is why also called as platform shoes.
Mules, on the other hand, are more of a fashion shoe than clogs. They have an open back but are usually made with thinner soles and the heel is almost always low.
Mule shoes are the perfect balance between style and comfort, making them suitable for any occasion, while clogs are more work oriented shoes that many professionals wear at work.
The clogs are considered as protection shoes because these are non-slip shoes while Mule shoes are considered as fashionable shoes.
Mule Shoes Vs Slide Shoes
Slide shoes are one of the most popular types of shoes these days. They are easy to slip on and off, as they do not require any lacing or tying. They typically have a low heel and an open toe, making them ideal for summer months.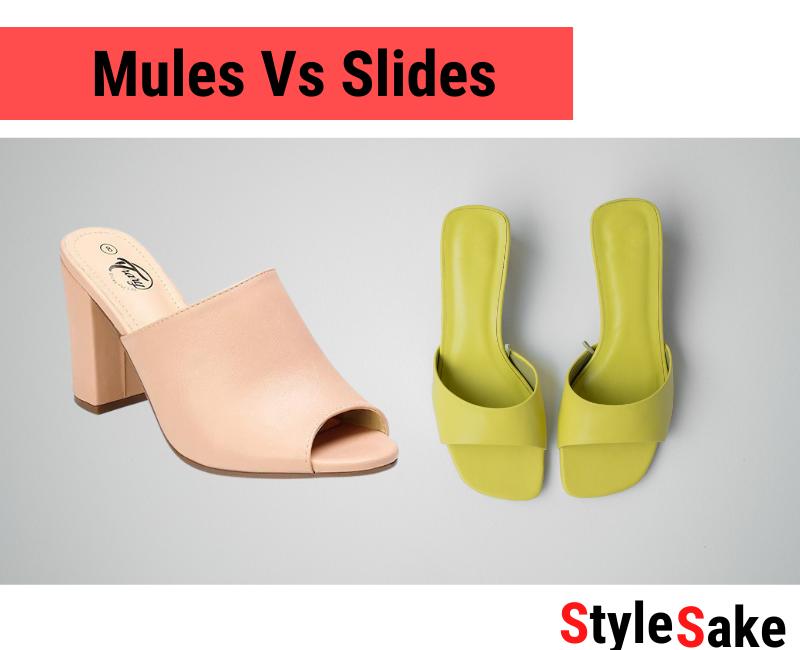 Mule shoes also have an open back but usually come with a low heel. The material used for mules is usually thinner than that of slide shoes, so they provide less protection from the elements but still maintain a high level of comfort.
The main difference between the two is that slides come in a variety of materials and colors, while mules are typically made from leather or other lighter fabrics. Mule shoes also often have embellishments such as buckles or frills that add an extra touch of style to them.
In terms of versatility, slides can be worn with casual outfits whereas mules tend to look better on occasions. You can say, mules are formal as compared to slides. They also provide more support around your feet which makes them great for long days spent standing up or walking around.
Mule Shoes Vs Loafer Shoes
When it comes to casual footwear, mule shoes and loafers are often confused for being the same type of shoe. However, there is a subtle difference between the two that makes them distinct from one another.
Mule shoes are slip-on shoes with no back or side covering. They generally have open backs with an upper part that covers the toes and a rounded heel that curves inward at the sides. Loafer shoes, on the other hand, have a more traditional silhouette with a low cut front and either leather or suede upper material with proper back that covers heel.
When it comes to styling, mule shoes look best when paired with right dress. They are perfect for everyday wear as well as office occasions where one has to make a subtle stylish statement. Loafer shoes, on the other hand, can be worn with both formal attire such as suits and blazers or casual outfits like jeans and chinos. The traditional loafer silhouette makes them ideal for dressier occasions too.
In terms of comfort, mule shoes are generally more comfortable than loafers due to their open back design that allows your feet to breathe better. However, some people find loafers more comfortable since they have a more supportive back and covered heel.
Are Mule Shoes Good For Walking?
Mule shoes are not great for walking due to their backless design that can make them off foot while walking and it will be difficult to keep them on feet. However, they are a great option for those who want something more stylish than regular sneakers or flats.
In fact, Mule shoes are great for fashion-forward individuals who want something stylish yet comfortable enough to wear all day long. The open back allows your feet to breathe better so it won't cause discomfort issues due to breathability but when worn for long periods of time these can be stressful due to less cushioning. But due to no back support walking can be difficult and you will also experience less grip on ground.