6 Best Ways To Clean Nike Shoes with Mesh | 2023
Nothing could be worse than getting dirt and stains on your brand-new mesh Nike shoes. There are many ways to clean Nike shoes with mesh. You can use toothpaste, detergents and chemical cleaners to clean shoes safely.
Cleaning shoes itself is an arduous task. Further, when it comes to cleaning a new pair of mesh Nikes, anyone would go extra crazy about how to clean Nike shoes with the delicate mesh.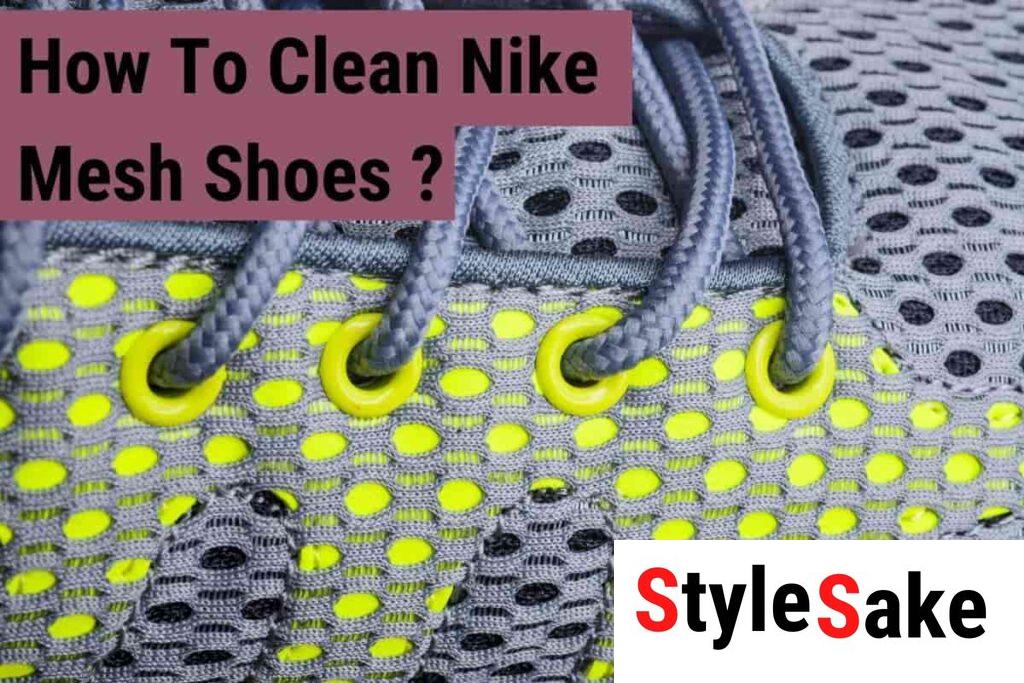 It's easier said than done. That is why we have the most trusted and experimented method to get your mesh Nike shoes clean in no time.
How to clean Nike shoes with mesh?
While Nike shoes are expensive, Mesh fiber is a delicate material. Therefore we need to be careful with our mesh Nike shoes and be extra cautious while cleaning them. Here is how you can clean mesh Nike shoes without ruining them.
Make a cleansing paste, add mild laundry detergent into warm water. Make sure detergent does not have bleach.
Dry brush Nike mesh, With a soft bristle brush, clean any dry mud or dust on the mesh.
Use a cloth to apply the cleaning paste on your mesh Nike shoes.
Scrub in small circles with the same cloth between each application.
Do not soak the shoe too much in the laundry detergent solution.
Keep aside a plain water bowl. Rinse the dirty cloth between each scrub to get the dirt off.
This prevents mud or dirt from sticking somewhere else on the shoe.
With a damp microfiber towel, clean the laundry detergent paste off your shoes effectively, do not leave in any detergent.
Dry in an airy space. Preferably in front of a window or fan.
Mesh Nike shoes are clean, wear them and show off.
Wash mesh Nike shoes with home supplies
Laundry detergents are an easy method to get clean shoes. However, it can make a mesh Nike shoe's neon color go dull, fade away, or your white mesh to get yellow. We do not want faded or yellow Nike shoes.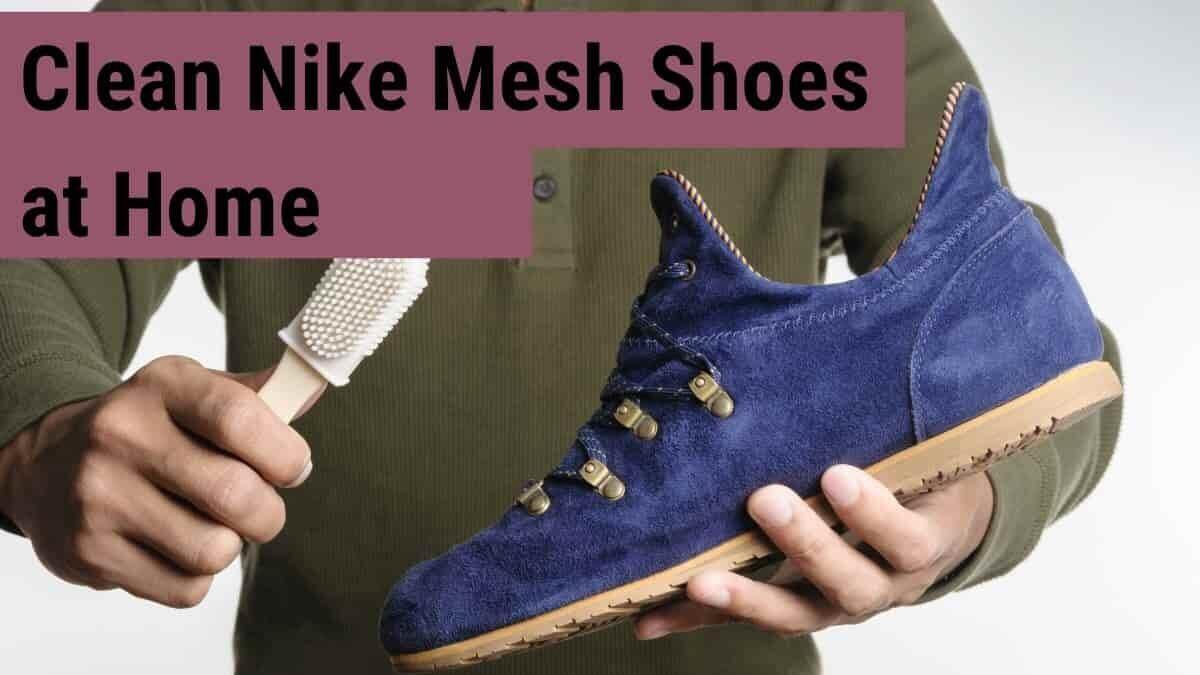 We have a solution to this. DIY methods to clean our Nike shoes with mesh can help us retain their color and shine while still cleaning them anyway. Slide down to read those magic supplies, which we will be using to get the dirt off Nike mesh.
Baking soda for oil stains on mesh shoes
Baking soda is the best cleanser. We trust baking soda for every type of grease /oil-based stain on fabrics. Whether it's your dress or shoe, baking soda can break down such stains and clean your Nike shoe mesh free of cost.
Make a solution of baking soda and warm water
With a clean cloth dipped in the solution, apply it over oil stains or shoes in general.
Leave it still on the bathroom floor for 10 minutes.
Use an old toothbrush to scrub the dirt but dab on oil stains with a fiber cloth.
Keep scrubbing or dabbing over the entire shoe with more baking soda solution.
With a clean wet cloth, wipe off the baking soda solution.
Dry in an airy space to let them dry.
Do not place them in direct heat or sun.
These tried and trusted steps will make your Nike shoe mesh new again.
Toothpaste hack for white mesh Nike shoe
Toothpaste is a great DIY only if used in the right way. Toothpaste contains hydrogen peroxide that strips off stains and restores your white teeth and so does your shoes.
Follow the hack carefully to clean white mesh Nike shoes.
Dust off all dry dirt with a soft bristle brush.
Take an unflavored white-colored toothpaste. Gel consistency of toothpaste is strictly prohibited.
Apply an even layer of toothpaste on the shoe exterior, do not rub it with force because toothpaste will skim into the mesh fabric.
A gentle scrub with your finger pads or with mild brush strokes is allowed if stains are hard.
Leave the shoe to rest for 10 to 15 minutes.
Make a patch test, remove a part of toothpaste to see if the colored stains are coming off.
Use a damp cloth to remove the toothpaste.
Keep a plain water bowl to wash the toothpaste from your cleaning cloth.
Repeat the cleaning process until all the toothpaste is off your shoes.
Dry shoes in cool air, placed away from direct heat or sunlight.
Tooth paste can also be used to remove yellow stains from white shoes.
The washing machine is the last savior.
If the mesh of your Nike shoes is dirty to an extreme that all of the above methods have failed, then you need to use a washing machine. We do not endorse it, but in extreme cases, we can take a chance.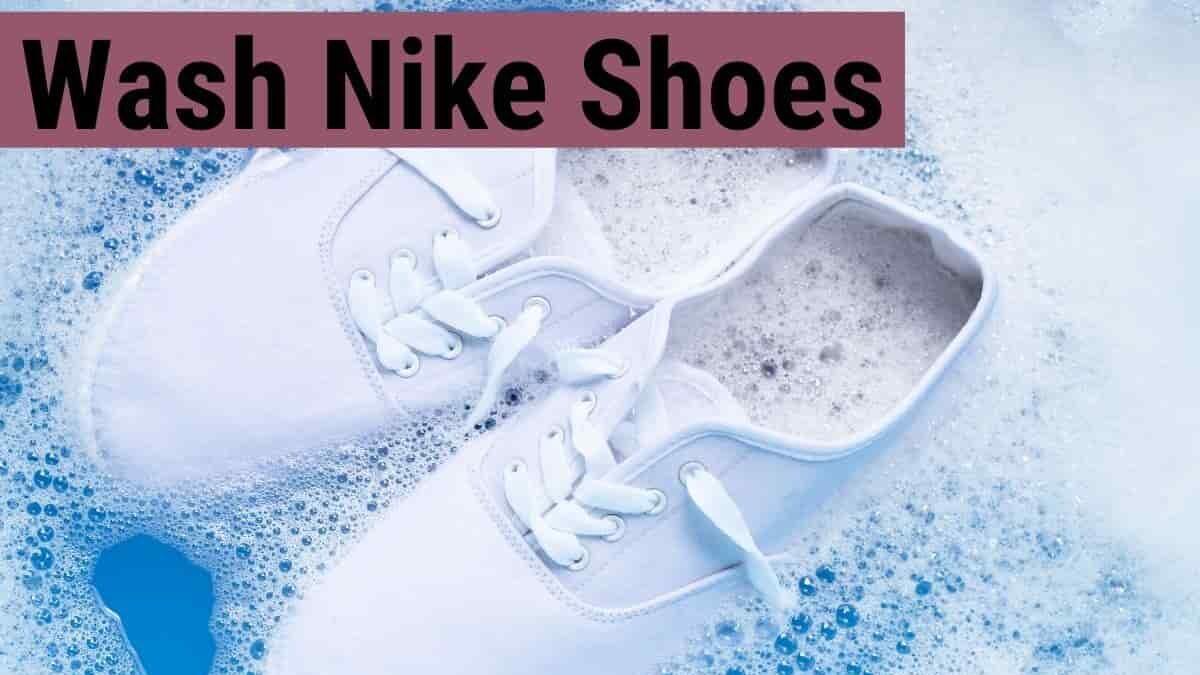 We all know how to use a washing machine yet, there is a guide to wash Nike shoes in the washing machine so that you do not ruin your Nike shoe mesh.
Use cold water setting for washing machine
Add a very mild detergent to your washing machine.
Dry brush your dirty Nike shoe and its mesh fabric to remove dust and grass dirt.
Place your Nike shoes in a pillowcase.
Tie a knot of pillowcase around the shoe from the pillowcase fabric itself.
Seal the pillowcase with an extra rubber band if you want to.
Set the machine on delicate mode. It will run as smoothly as it does for fancy clothes.
Set the time for a maximum of 10 minutes.
Do not place it in a hot dryer.
Dry in cool air advised using a fan, or make the shoes face an airy window or under a tree or shade.
Tips to Keep Your Nike Mesh Shoes Clean
Wash shoes as soon as they get dirty. Do not wait for the next day or for the shoes to dry out.
Always hand washes or use cloth for Nike shoes with mesh.
If Nike shoe mesh gets wet, stuff some tissue papers or newspaper. It will absorb all the moisture seeping in without destroying the interior.
Keep changing laces if your Nike shoes have them. It gives shoes a new look.
Place your white mesh Nike shoes in a bag after each wear. Keeping it in the bag retains its new shine and scent.
Before wearing shoes, spray stain repellent on it generously on your Nike mesh shoe.
Conclusion
Nike's are expensive. We don't want to throw them away. The best way to restore your mesh Nike shoes is by keeping them clean and protected from dirt, chemicals, and football grounds.
Remember the tips and tricks to keep shoes clean. Even so, if they get stained by oil or grass, wash your Nikes with mesh using the DIYs you just learned.